Fast Facts
Participating Institutions:Central, State government & private Universities, IIT Roorkee, NITs and private institutes (1,200 offering 80,000 seats)
For: Graduate students with Mathematics/related subject and requisite marks
Selection process:Usually a Common Entrance Test followed by counselling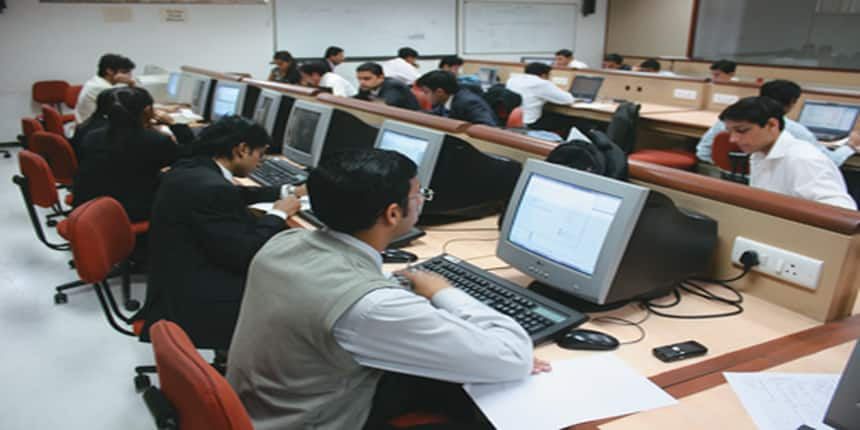 WHEN A. Rangachari did not crack the Tamil Nadu professional courses engineering exam, he was perturbed. But an MCA at Regional Engineering College, Trichy did the trick.

"It is in fact a blessing in disguise. I learnt much more on the application side of computing at REC," says Rangachari, Manager (Quality) at HCL. Prof. Ramanathan, Director of Institute for Computing, Thiruvananthapuram agrees. "An MCA, if taught well, adds more value to the student, especially in the business understanding side," he says.

When Careers360 brought out the Engineering Special Issue in June 2010, our research indicated that every year in India, close to 5.6 lakh students study to become engineers specialising in Computer Science (CSE), Electronics & Communication (ECE) and Information Technology (IT) alone, which is more than 50 percent of the total number of engineers being produced annually.

This figure sturdily indicates the importance IT has in the Indian employment scenario. Where does MCA figure in the scheme of things? Does it have the same charm as it had in early 90s? According to Prof. Neeraj Sanghi of IIT Kanpur, a postgraduate course in Computer Science, attuned more towards applications for Indian industry, was a historical necessity but is not required today. Is it true?

The latest AICTE data (2009) and our own research indicate that there are close to 1,200 institutes in India with a sanctioned intake of 80,000 students in the MCA programme. To be precise, there are 75,021 seats in 1089 institutions. Andhra Pradesh and Tamil Nadu account for nearly 60 percent of total number of MCA seats in the country (see the pie-chart). At this juncture we need to ask: Do we have enough jobs for one million Computer Science and IT professionals? Has the MCA lost its sheen? If not, what should MCA aspirants expect?


MCA programme: The basics
At the risk of sounding simplistic we may say that if you are attuned to automatic computing and keen in providing solutions in the Information & Communication Technology (ICT) domain, then MCA is a comprehensible way forward. MCA is a three-year (six semesters) course that makes you learn and understand both theory and applications in Computer Science. It primarily aims at training individuals for professional practice in the ICT industry. "I wish to have a good exposure in software development profile in the IT industry and apply my skills there before I think any further," says Nisha Goyal, a 5th semester MCA student at Delhi University. Nisha has recently been offered a lucrative job at Aricent.


Course curriculum

The MCA course can be divided into four broad components:

One, the Mathematics behind Computer Science where one is exposed to Discrete Mathematics, Numerical & Statistical Methods, Computational Algebra and other topics. This is in relation to the functioning of digital computers as they operate in discrete steps and store data in discrete bits.

Second component is to learn the concepts in core computers and systems science. Students learn about operating systems, programming, data structures, theory of computation, database management, optimisation theory, algorithms, computer networks etc.

"We emphasise a lot on core computer courses so that students have a sound understanding of the basic concepts," says a professor at School of Computers & Systems Sciences at JNU. The application of the theoretical concepts is dealt with in modules such as simulations, software engineering, analysis and design. Dr Vilas Kharat, Head of the Computer Science Department at University of Pune echoes a similar view. "People who are clear and thorough with the fundamentals can adapt to rapid changes in technology relatively easily," he says. At VIT Vellore, the students are exposed to enterprise software management methodologies.

Third component comprises non-core computer courses, for instance organisation behaviour, operations research, linguistics, communication, financial & management accounting and such areas. The objective is to make the students aware of industry needs.

There are several interesting aspects which we learn in MCA, says Sameer Kumar, a pass-out from BIT Mesra and now working for an MNC. He recalls, "In distributed computing, we got to know why systems fail, and what are the reliability issues which I can now relate to my job". Praveen Ranjan who passed his MCA from IGNOU is excited about Software Engineering and three-dimensional graphics. He quips "I wish to use my learning from the MCA course for my PhD work in orientation of 3-D molecules and their reaction mechanism in solid state Chemistry". The MCA course also allows choosing 'optional courses' in a particular field as per the student's interest. One undergoes intensive training on standalone Personal Computers and Workstations, under the supervision of a faculty.

Fourth, A unique feature of MCA is the final or the penultimate semester devoted to 20-25 week industrial project (in software development or design) that enables students to gain hands-on experience. "We emphasise practical knowledge and the latest research trends in IT industry so that students fit into industry," says Dr. Neeraj Tyagi, faculty at Motilal Nehru National Institute of Technology, Allahabad.


Entry to the programme
Institutes of repute conduct an All-India Examination followed by an interview in some institutes. Admission to the National Institutes of Technology (NIT) is through a common entrance exam known as NIT MCA Common Entrance Test (NIMCET), while for Indian Institutes of Technology (IIT) one has to appear for Joint Admissions Test for MSc (JAM). Admission to some of the institutes is highly competitive. At JNU for instance, 30 students are selected from about 12,000 applicants thus making the success rate 1 to 400 applicants!

This is largely due to quality education at an incredibly low cost. Even the distance learning courses cost more, for instance the fee per semester for MCA at IGNOU and Osmania University is Rs. 8,100 and Rs. 6,000 respectively. For most of the other state universities/ institutes, a common entrance examination is held by the state authority followed by counselling. For instance, in Gujarat, admissions are held through the Gujarat Centralised Entrance Test .


About the Entrance Test
The Entrance Test for getting admission to MCA normally comprises questions of 10+2 level Mathematics, Analytical Ability and Logical Reasoning and in some institutes Computer and General Awareness. At Banaras Hindu University (BHU), the paper includes 150 multiple-choice questions on Mathematical Aptitude (about 100) and Logical Reasoning to be answered in 150 minutes. At BIT Mesra, the MCA Online Entrance Test has 120 questions to be answered in 2 hours.

There are 70 questions in Mathematics, 30 in Analytical Ability/Logical Reasoning and 20 in Computer Awareness. Similarly for admission in Delhi University and IIT Roorkee, the JAM test paper comprises Mathematics, Computer awareness & Analytical Ability and General Awareness usually in the ratio of 4:2:1. The questions for Mathematics section come from Matrices and Determinants, Inequalities, Logarithm, Progressions, Binomial Expansion, Complex Arithmetic, Permutation and Combination, 2-Degree Equations, Function and Relation, 2-D Coordinate Geometry, Basics of Calculus and Probability.

Job prospects
The operative word here is 'quality education'. In other words, the prospects are good for those who do the course from good institutions. By 'quality education' we mean that the students should be able to develop strong software competencies and problem-solving abilities. According to Prof. Neelima Gupta, Head, Computer Science at Delhi University, these are the requisite skills to prepare you for a successful career as a software professional.

However, Professor Karmeshu at School of Computers and Systems Sciences, JNU has a word of caution. "We need to identify the technological gaps where MCA professionals can be better utilised to bridge the same," he says, and adds further that current employment opportunities in the IT sector are more tuned to the operational needs of foreign firms.

MCA professionals start their career as software trainees, junior analysts, testing/quality assurance officers, web-analyst, systems analysts, application programmers, software engineers or assistant managers and later move on become professional software developers, IT-managers, design analyst, database administrators, and information systems specialists.

Hands-on experience and functional expertise then equip them to handle independent projects as team leaders or systems managers in different domain such as software development & design, enterprise resource planning (ERP), application development, networking, data warehousing/mining, project management, database and server administration, technical writing, R&D, animation/computer graphics, management information systems (MIS), geographic information system (GIS), embedded technology and academia (teaching/research).

To start with, a fresher from a good institution starts earning anywhere between Rs. 3.5 to 12 lakhs per annum (lpa) depending on the nature of job responsibility, academic worth of an individual and the profile of the recruiting company. The average salary offered last year at University of Pune was Rs. 5.5 lpa, the highest being Rs. 12.5 lpa. At BIT Mesra, the average salary was Rs. 4 lpa and most of the candidates were absorbed with 2 percent opting for higher studies. 
There are numerous institutions offering MCA programmes without a serious thought of the consequences. The competition for a slice in the job pie is not only among MCA professionals but from Engineering graduates (BTech/BE) and MSc candidates specialising in Computer Science and Information Technology-related disciplines. The mushrooming of institutions with no quality check on education is not going to benefit anyone. It is in the interest of various stakeholders to understand the potential that MCA offers - a sturdy combination of core computing skills and applications. The need of the hour is to identify such technological domain where India can excel and make better use of human resources.  
SELECT INSTITUTES KNOWN TO OFFER BEST MCA PROGRAMME

MCA Institute (estd) and Website

Selection Mode (Intake)

Core Faculty
(with PhD)

Eligibility: Graduation and Semester fee (Rs)

Past Recruiter

Banaras Hindu University, Department of Computer Science (1994)

Institute's own test (PET) conducted at Varanasi, Delhi, Kolkata, Chennai & Hyderabad (46) 

8 (5) 

Minimum 50% in aggregate with Mathematics at Intermediate or 10+2 (NA) 

Blue Star, Infosys, Microsoft, TCS, RBI, Goldman Sachs, Reliance, Yahoo 

BIT Mesra, Dept of IT & MCA (Ranchi; & 5 Extension centres (1984)

Institute's Own Online Entrance

 Test (410***) 

15** (3)

60% with Maths/Statistics or BCA or IT related graduation degree (39,500)

TCS, Aricent, HP, IBM, Igate, Infosys, Mphasis, Tech Mahindra, Wipro 

IIT Roorkee, Department of Mathematics - Interdisciplinary (2000) 

JAM (49)

26** (26) 

With Mathematics for at least 1-year for annual/2-papers for semester system ( 17,750) 

TCS, Infosys, Wipro, Oracle India, IBM India, Cognizant, Accenture, Tata Steel

Jawaharlal Nehru University, School of Computer and Systems Sciences  

Institute's own test (every year 3rd week of May) followed by an extensive interview (30) 

17 (15) 

With adequate competence in Mathematics with 55% (230; US$ 750 for foreign nationals)

 

IBM, CSC, TCS, Flextronics, Cadence, Accenture, Genpact, Siemens, HP, CSG 

NIMCET (60-80)

19 (10) 

60% (6.5/10 CGPA) in both 12th & Bachelor's level with Maths/Comp. Sc. (12,000*) 

Genpact, Newgen, Microsoft, TCS, Infosys, Cisco  

NIMCET (60)

2 (2) 

Same as MNNIT (above)

First batch yet to pass out 

JAM (2009 & 2010); previously - own National level test  and interview(40) 

7 (5) 

60% with Mathematics & Computer Science (9,145*) 

IBM Research Labs, Perot Systems, SUN, Capgemini 

University of Hyderabad, Dept. of Computer and Info. Sc. (1983)

Institute's own test (written only) (30-35)

24 (15) 

60% aggregate with Maths compulsory in 12th (6,560) 

Google, IBM, Oracle, Honeywell, Tata, Tech Mahindra, Cognizant, Cisco

Institute's own test (35-45) 

9 (1)

Mathematics in XII (10,500 (Maharashtra Domicile); 21,000 (outside candidates)) 

Amazon IDC, AOL, Sybase, Citi Group, Microsoft Research, nVIDIA, qLogic  

VITMEE (120) 

136** 

With Maths/Statistics at Graduation and +2 level (45,000)

TCS, Accenture, Infosys, Wipro, IBM, iGATE, HCL 
Note:
* Fee at the time of admission;
** Faculty of the parent department;
***Mesra (60), Allahabad (100), Jaipur (45), Lalpur (105), Kolkata (40) and Noida (60)