Why IT Professionals Need to Upskill Themselves in Cloud Computing?
Over the past few years, the cloud computing market has created a great deal of interest and financial influx. Cloud computing has emerged to become a vital cog for a plethora of global businesses as part of their IT infrastructure. Market analysts report that the cloud computing industry has grown quickly over the past 5 years.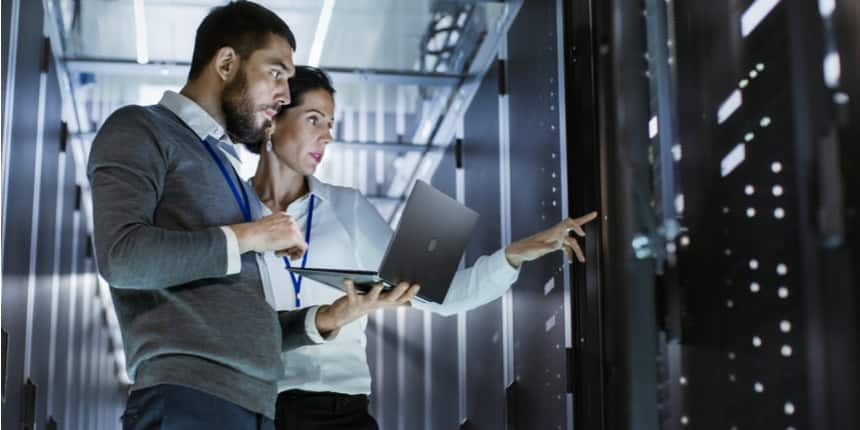 According to a report by a reputed agency, the Amazon Web Services (AWS) profits will climb to $43 billion by 2022 while Microsoft Azure and Google Cloud are expected to be closing the gap behind. As cloud computing becomes important to IT and service in general, the demand for human resources with appropriate cloud computing skills will also see a turn for the better. Aspiring cloud specialists must show that they have the skills and understanding to be able to compete favourably in the market, and a cloud certification is an optimum way to do that.
Here are the leading reasons you need to opt for cloud computing courses online if you're looking to embark your career in this innovative field:
The very positive demand outlook for Cloud Computing Experts:
Organizations are seeking IT specialists who know what is cloud computing and can assist them in implementing a cloud environment into their facilities as perfectly as possible. Cloud computing online courses such as that offered by AWS will lend incumbents an advantageous proposition.
It has been widely known in the public domain that Azure (Microsoft Cloud) certified professionals have experienced a sharp jump in demand for a few years now. Thus, an accreditation in Azure Infrastructure Solutions will enable you to have the abilities required for those tasks.
A lot of businesses today use DevOps to provide brand-new software applications and features. As more companies understand the advantages of DevOps approaches, the need for licensed specialists in this domain continues to grow. You can get accredited by taking a course on DevOps Practitioner Certification.
Better Remuneration Potential
The typical incomes for cloud administrators are less than $78,000, while cloud developers make in the ballpark of $128,778 a year. Cloud architects draw even larger paychecks, with mean wages of $134,406 and some wages as high as $173,719. So, it is quite beneficial to opt for cloud computing for beginners to start your career with a handsome pay package.
Stable Career path
You can land tasks that aren't influenced by unpredictable market conditions if you acquire the latest abilities in cloud computing. This is because many businesses find it challenging to recruit IT specialists with the cloud computing abilities they require. Online cloud computing courses provide you with the necessary training so that you learn the basics and have a stable career ahead.
Improves Credibility with Employers and Peers
Completing a cloud computing course online indicates that you are skilled to assist your organization with lower risks and cash outflows to implement your workloads and tasks on various cloud platforms. It shows that you can work on complex treatments and handle cloud deployment in an enterprise.
If you wish to concentrate on one area of cloud computing or you desire a new task, you can focus on one or more vendor-specific accreditations, such as AWS or VMWare. Cloud accreditations are a terrific method to take your profession to greater heights.
More interview calls
A suitable online cloud computing course such as that offered by Google is a big boon to reach the interview stage of celebrated firms if you are looking to make a mark in this industry. Having an accreditation on your resume will assist you to get observed by hiring businesses and shows to your employers that you have the ideal cloud computing abilities, knowledge, and know-how for the task.
Over the last couple of years, cloud innovation has transformed the way services operate. Today, businesses, large and small, count on public cloud platforms to host and execute important applications. Whether you're planning a brief entry into this domain or looking to grow your cloud computing profession, an accreditation will assist you to gain the most sought-after skills and contribute to your firm's business.
Valuable Online Cloud Computing Courses
A lot of students are concerned about which online cloud computing course will be the best for their career. To help you out, we have listed the top cloud computing online courses that you can pursue.
Google Certified Corporate Data Engineer

CompTIA Cloud+

AWS Certified SysOps Administrator

AWS Certified Developer-- Associate

Google Certified Corporate Cloud Architect

Microsoft Certified: Microsoft Azure Fundamentals

Microsoft Certified: ASAE

Microsoft Certified: AAE

Certified Cloud Security Professional (CCSP)
Google Certified Corporate Data Engineer
This certification has been developed for information engineers dealing with the Google Cloud Platform. The certification examination covers your capability to design, develop, operationalize, secure and monitor information processing systems. You'll be evaluated on creating information processing systems, structure and operationalising information processing systems and artificial intelligence models. It is suggested to have three or more years of relevant experience, including a minimum of one year of developing and managing options on Google's cloud.
Average salary: Rs. 7,75,600.
CompTIA Cloud+
This online cloud computing course is created to validate that cloud specialists have the abilities required to optimise and maintain cloud infrastructure services. The examination is vendor-neutral and covers suitable vendors, thereby enabling you to gain a broader perspective of the cloud infrastructure services. You'll learn and be evaluated on configurations and release, system maintenance, management of cloud resources, privacy and troubleshooting. It is suggested to have a minimum of 2.5 years of relevant experience, preferably in system administration, before taking the exam.
Average remuneration: Rs. 3,02,600 annually, according to PayScale.
AWS Certified Sys-Ops Administrator
This certification is developed for systems administrators with approximately 1.5 years of relevant experience in instance creation, management, and deployment on AWS. The exam covers deploying, handling and running scalable systems on AWS along with executing and controlling information flow, selecting an AWS service based upon requirements, determining AWS operations best practices, minimising costs and moving workloads to AWS. It is advised to have at least one year of experience tracking and auditing systems; to have an understanding of security, networking and virtualisation principles; and to have hands-on experience with CLI, SDK, AWS and API tools.
Typical salary: Rs. 8,74,000
AWS Certified Developer
This Associate certification has been compiled for cloud experts working in advancement who have several years of experience establishing and preserving AWS-based applications. The certification test tests your understanding of programs languages, AWS core services, AWS architecture finest practices and application life process management. It is likewise crucial to know how to develop, release and troubleshoot cloud-based applications in Amazon's cloud and to compose code for serverless applications.
Typical income: Rs. 6,15,400
Google Certified Corporate Cloud Architect
The Google Cloud Corporate Cloud Architect accreditation covers the abilities and knowledge IT professionals require to deal with Google Cloud technologies in the business. The test covers your ability to style, develop and handle scalable and safe business services in the cloud, including topics such as creating and planning, managing and provisioning and executing cloud architecture. You'll also be evaluated on how to create cloud applications with strict compliance parameters being adhered to, as well as on your ability to analyse and enhance business procedures.
Typical salary: Rs. 7,25,000
Microsoft Certified: Microsoft Azure Fundamentals
This certification confirms your knowledge of cloud principles and Azure. The examination covers the basics of cloud ideas, Azure prices SLAs and lifecycles. You'll likewise cover the essentials of security, personal privacy, compliance and trust as they connect to Azure. The Microsoft Certified Azure Fundamentals certification does not have an expiry date, so once you pass the exam you will not have to stress over recertifying.
Average salary: Rs. 8,46,000
Microsoft Certified Azure Solutions Architect Expert
This accreditation is suitable for cloud professionals working on advising shareholders and building reputable cloud services based on organisation requirements. The expert-level test covers a comprehensive quantity of info, including your ability to set up and deploy infrastructure, execute workloads and security, and create and deploy apps. You'll likewise be tested on developing a data platform option, an organisation continuity strategy and an infrastructure technique. You'll be asked how to carry out authentication and safe and secure information, establish for the cloud and Azure storage, identify work requirements, design an information platform option, style a business continuity technique, design for deployment, integration and migration, and design an infrastructure method.
Average wage: Rs. 9,50,000 annually, according to PayScale.
Microsoft Certified Azure Administrator Associate
This exhaustive certification is for IT experts working in cloud environments utilising Azure. The certification test covers your ability to handle Azure identities and governance, manage and implement storage, release and handle Azure resources, configure and handle virtual networks and monitor and backup Azure resources.
Average wage: Rs. 6,15,000
Qualified Cloud Security Professional (CSSP)
The test covers cloud concepts, architecture, risk, security and design and compliance. The CSSP certification is best suited for those working with cloud innovation in a function as a business architect, systems architect, security administrator, systems engineer, or security expert, engineer or manager.
Typical wage: Rs. 9,65,400 each year, according to PayScale.
Cloud Computing Architecture
As we know, online cloud computing course is integrated by a myriad of companies ranging across the economic spectrum, to keep the information on the cloud and gain access to it from anywhere at any time by utilising the ubiquitous internet.
Cloud computing architecture carves its efficacy from being a combination of service-driven architecture and event-oriented architecture.
Cloud computing architecture can be best understood by dividing it into the following two main parts:
Front End
The front end is utilized by the client. It consists of client-side interfaces and applications that are required to access the cloud computing platforms. The front end includes popular web browsers (consisting of Mozilla Firefox, Google Chrome, IE among others), tablets, as well as smartphones.
Back End
This segment is used by the company selling the cloud service. It keeps a close, dedicated vigil on all the resources that are required to execute a successful cloud computing service experience for the customer. Usually, the service includes a significant quantum of data storage, security mechanism, virtual devices, releasing designs, traffic control mechanisms and servers, among other elements.
Components of Cloud Computing Architecture
Following are the main elements:
Client Infrastructure
This belongs to the Front end. It enables the Graphical User Interface for seamless communication with the cloud.
Application
The application is the software application or platform that a client intends to access. This aspect is in control of the customer.
Service
Cloud Services manage the type of service to be accessed according to the client's business needs.
Cloud computing uses the following 3 service classes:
Software as a Service (SaaS): This is sometimes called out as cloud application services. Primarily, SaaS applications can be accessed directly through commonly encountered web browsers, thus not needing to download and install these applications. Some popular examples of SaaS are provided below:
Example: Slack, Google Apps, WebEx, Salesforce Dropbox, Hubspot, Cisco.
Platform as a Service (PaaS): This service name is used interchangeably with cloud platform services. It is rather comparable to SaaS, but the distinction is that PaaS provides a platform for software production. On the other hand, utilising SaaS, we can access software online without the need for any platform.
Example: Force.com, Windows Azure, OpenShift.
Infrastructure as a Service (IaaS): This is also known as cloud infrastructure services. Its main duties include handling applications data, middleware, and runtime environments.
Example: Cisco Metapod, Amazon Web Services (AWS) EC2, Google Compute Engine (GCE)
Runtime Cloud
Runtime Cloud supplies the execution and runtime environment to the virtual devices.
Storage
Storage is one of the most important elements of cloud computing. It provides a big quantity of storage capability in the cloud to shop and handle data.
Infrastructure
It offers services on the application, host and network level. Cloud facilities consist of hardware and software parts such as servers, storage, network gadgets, virtualization software application, and other storage resources that are required to support the cloud computing design.
Management
Management is used to handle elements such as application, service, runtime cloud, storage, facilities, and other security problems in the backend and develop coordination between them.
Security
Security is a built-in backend element of cloud computing. Its job is to embody the security algorithm.
Web
The front-end and back-end communicate to each other through this medium. Thus, the requisite engagement is made possible through this channel.
Frequently Asked Question (FAQs) - Why IT Professionals Need to Upskill Themselves in Cloud Computing?
Question: Which industries stand to benefit the most out of Cloud Computing?
Answer:
A myriad of sectors will gain from this field. Some of the notable ones being Financial, Education, Real Estate and Insurance.
Question: What are the prerequisites for learning Cloud Computing?
Answer:
Prior knowledge of operating systems will keep you in good stead. Next, knowledge of networking from a working experience point of view is also recommended.
Question: Which are the best cloud certifications for beginners?
Answer:
Some of the most acclaimed courses for newbies are the CISCO CCNA Cloud and the AWS certified cloud architect program.
Question: Is cloud computing the same as SaaS?
Answer:
You can say that SaaS is a part of the cloud computing market. It was from the usage of SaaS that the idea of using cloud computing was considered by demonstrating that IT services can be easily available on the web.
Question: Where can I enroll in online cloud computing classes?
Answer:
With the increase in demand for cloud computing tutorial for beginners, there is a lot of online courses available. Some of the best places where you can enroll in online cloud computing courses are Udemy, Coursera, Cloud Academy, A Cloud Guru.
Question: Is cloud computing a difficult course?
Answer:
The course is not very difficult; however, you need to have some expertise in designing, implementing and deploying services for end-users.
Questions related to IT and Systems Management
Showing 4 out of 4 Questions