MCA Course - Duration, Eligibility, Fees: The advancement in technology is evident in our day to day lives. There was a time when one was surprised about the power a click of a mouse or a button had while nowadays, all we have to do is talk to Alexa! To keep up with this pace, the sector of Information Technology (IT) is in need of qualified, dedicated and energetic personnel. Thus, Master of Computer Applications (MCA) degree holders are much in demand which makes MCA, as a course, very attractive. With lucrative job opportunities waiting for MCA qualifiers, it is natural for the aspirants for wanting to know more about this degree course. Read on to know the A to Z about MCA Course.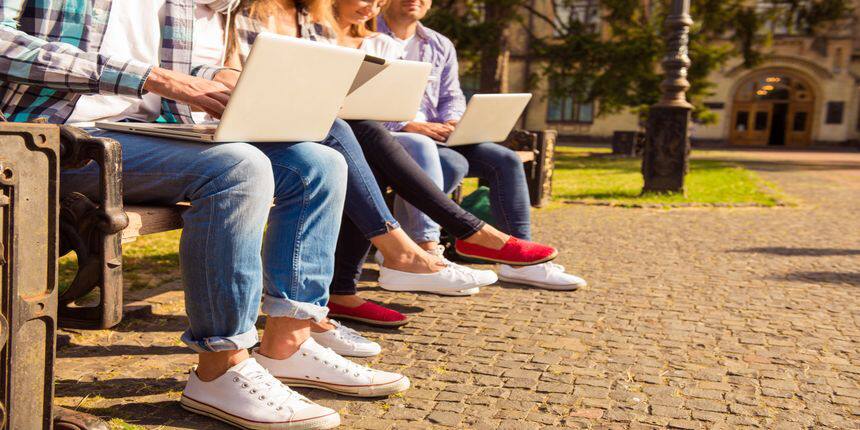 What is MCA?
Master of Computer Applications (MCA) is a three-year, postgraduate degree course aiming to educate the students about application development, commonly through various programming languages. 
Who can apply for MCA?
If you are zealous about the latest updates in technology and have the required aptitude in mathematics and computer science, a degree course in Master of Computer Applications (MCA) sounds perfect for you! However, there are various educational and/ or professional requirements stated by different MCA offering institutes. MCA aspirants must fulfil the MCA eligibility criteria listed below:
Students who have completed Bachelors of Computer Application (BCA) or any other degree course in science, arts and commerce from a recognized university can apply for MCA. However, such students must have had mathematics as one of the subjects in class XII. 

Most institutes open MCA admission for candidates who crack various national or state level entrance exams. For this, candidates must clear the exam as well as pass the interview/ group discussion round, if any.

Some institutes offer MCA admission on the basis of merit so in such a case, candidates need to score the minimum requirement of marks.

Candidates who have appeared for the third year exams but have their result awaited can also get admission in MCA.

For candidates wishing to apply for Master of Computer Applications (MCA) Lateral entry (2 years), they must have graduated with a B.Sc (Computer Science)/ BCA degree or completed any other technical diploma course.
It must be noted that the eligibility criteria of MCA may differ for various institutes. The MCA eligibility requirements given above are common for most but not all the institutes.
How to apply for MCA course?
Given below are the ways by which some of the top MCA colleges in India are providing admission:
Entrance exam: Various national and state level entrance exams offer MCA admission, in some of the most reputable universities, to the high rankers. Mostly, the written exam is accompanied by a session of personal interview or group discussion. On the basis of the candidates' performance on all these rounds, they are offered MCA admission.

Direct admission: If a candidate is included in the merit list according to the marks secured by them in the qualifying exam (final year exam of graduation), he/ she can get direct MCA admission. The minimum marks required for the same varies for different institutes.
MCA offering Institutes in India
| | | |
| --- | --- | --- |
| S.No. | Universities | Location |
| 1 | | NH 66, Srinivas Nagar, Surathkal, Srinivasnagar, Surathkal, Mangalore, Karnataka 575025 |
| 2 | | Gachibowli, Hyderabad, Telangana 500 046 |
| 3 | | Teliarganj, Allahabad, Uttar Pradesh 211004 |
| 4 | | Tanjore Main Road, National Highway 67, Tiruchirappalli, Tamil Nadu 620015 |
| 5 | | 27, Malviya industrial area, Malviya Nagar Industrial Area, Malviya Nagar, Jaipur, Rajasthan 302017 |
| 6 | | Ganeshkhind, Pune, Maharashtra 411007 |
| 7 | | Avinashi Road, Peelamedu, Coimbatore, Tamil Nadu 641004 |
| 8 | | Rourkela, Orissa, India – 769 008 |
| 9 | | NH 75, Madhya Pradesh |
| 10 | | New Mehrauli Road, New Delhi, 110067 |
MCA Fees
Knowing all about MCA admissions includes being updated with the fee structures so that the aspirants can choose an institute suitable for their pocket. Check the fee structure of the top 3 National Institute of Technology (NITs) given below:
NATIONAL INSTITUTE OF TECHNOLOGY, TIRUCHIRAPALLI
Click here or check NITT institute fees below:
Click here or check NITT hostel fees below:
NATIONAL INSTITUTE OF TECHNOLOGY, KARNATAKA
INSTITUTE FEE

YEARS

YEAR 1

YEAR 2

YEAR 3

SEMESTER

1

2

3

4

5

6

TUITION FEE

₹35000

₹35000

₹35000

₹35000

₹35000

₹35000

OTHER FEES

₹20340

₹6000

₹9340

--

₹9340

--

TOTAL YEAR WISE

₹96,340

₹79,340

₹79,340

GRAND TOTAL

₹2.55 LAKHS






Hostel Fee (For Hosteler)

Admission Fees

1000

-

-

-

-

-

-

Hostel Rent (including water/electricity charges)
1st year Boys ( Shared accommodation)
2nd year Boys ( Shared/ Single room accommodation)
3rd year Boys- Single room accommodation

4000

4000

4000*

4000*

5000

5000




4th year Boys- Single room accommodation
Girls Hostels 1st to 4th year Girls
( Shared accommodation 1st to 3rd year & Single room accommodation - 4th year )

4000

4000

4000

4000

4000

4000

5000

5000
INSTITUTE FEE

Particulars

Amount

Caution Money (One Time, Refundable)

₹4,000

One Time Fees

₹13,850

Tuition Fee (per Semester)

₹62,500

Annual Fees

₹4,200

Total

₹84,550
HOSTEL FEE

Particulars

Amount

Hostel Caution Money (One Time, Refundable)

₹10,000

Hostel Seat Rent (per Year)

₹4000 (Boys)

₹2000 (Girls)

Electricity & Water charges (per Year)

₹4,500

Hostel Maintenance Charges (per Year)

₹5500 (boys)

₹4500 (girls)

Mess Advance (per Semester)

₹15,000