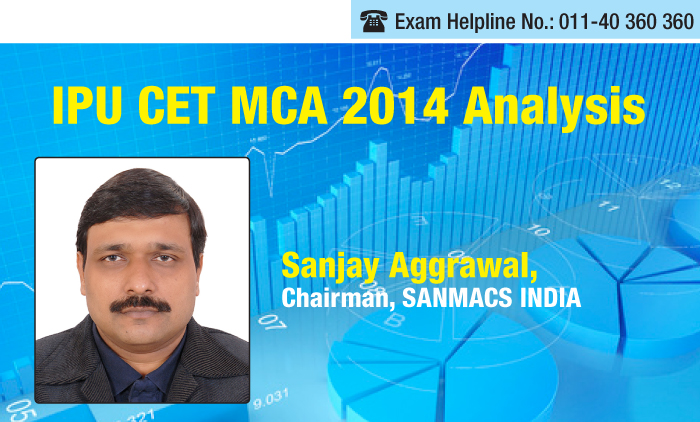 Written examination of Inderprastha University Common Entrance Test was held on April 27, 2014. The offline exam is conducted by the Guru Gobind Singh Inderprastha University to offer admission for MCA course.


Careers360 brings you telephonic interview conducted by Careers360 with Sanjay Aggrawal, Chairman, SANMACS INDIA regarding exam analysis of the IPU CET MCA 2014.


For any doubts and queries students can call the IPU CET MCA Exam2014 Helpline at 011-40360360


Talking to Careers360, the expert shares his insights on difficulty level of each section of the IPU CET MCA 2014 question paper and discussed probable reasons for English language section being not-so scoring by test takers.  He also mentions on a few topics, which were totally skipped in the exam.


Time duration of the test was of two and a half hours. The question paper comprised of following four sections- English Language and Comprehension, Mathematics, Computer Awareness, Logical and Analytical Ability. Total of 150 multiple choice questions (MCQs) were asked in the exam.


The 3 hours exam consisting of 200 questions was divided in 5 sections – English Language, Logical Reasoning, Numerical Ability & Scientific Aptitude, General Knowledge & Current Affairs and Service Aptitude.


Read below the comprehensive analysis of the IPU CET MCA 2014-


Overall Analysis-
English Language and Comprehension: this was the toughest section of the question paper. Approximately 14-18 questions were framed on comprehension passage, which was very long. So, test takers have to devote a lot of time to read and re-read the passage in order to understand the content.


Topics like vocabulary, direct-indirect speech, and active passive words were covered.


The expert stressed that the said section was rated as the toughest because for many test takers their strong area is either Mathematics or Computer Awareness.


Mathematics: difficulty level of questions carried in this section was ranged from easy to very easy. However, some few questions were framed on important topics like essential equations, set theory/relations, combination, trigonometric functions, three- dimensional geometry.


Below presented is pictorial representation of difficulty level of questions appeared in English Language and Comprehension  section-
Computer Awareness: This was the easiest section among all sections. Current affairs question related to IT sector were included. A question appeared in the exam was name of current Microsoft Corporation, CEO.


Logical and Analytical Ability: Nearly 38 questions were asked in the section. Topics like Venn diagrams, analogy, calendars and time, coding and decoding, data sufficiency, problem figures, etc were covered. The section was easy to moderate.


Below presented is pictorial representation of difficulty level of questions appeared in Logical and Analytical Ability and Computer Awareness sections-
According the director, test takers who attempted and derived correct answers for nearly 90-100 shall expect average result.  Further, he estimated that test takers who solved nearly 100-120 correctly, shall expect moderate to decent good marks. While test takers who solved nearly 125-140 correctly shall expect good-very good marks.


However, he added that the said expected result may vary with the IPU CET MCA 2014 final cutoff.


Stay connected to it.careers360.com for more news and feature articles on IPU CET MCA 2014
IPU CET College Predictor
Know your admission chances
Use Now
Admissions Open Now

Amity University B.Tech Admissions 2019
Apply

Lovely Professional University Admissions 2019
Apply

View All Application Forms
More like IPU CET
IPU CET BCA 2014 Online Application Begins from Feb 5 – A...
IPU CET BCA2014 Online Application– Apply Online for IPU CET BCA 2014 application forms for Under...
Questions related to IPU CET
ThuT ipu cet is very good for mca. In this ipi cet most students appear that is 40,600. This is for b.tech students for entry exam for mca. This ma...
Hi Kunal,The cutoff changes every year and is different for differnet category of students.In the below links you can check your rank & college...
Related E-books and Sample Papers